7 Essentials for an Eco-friendly Bathroom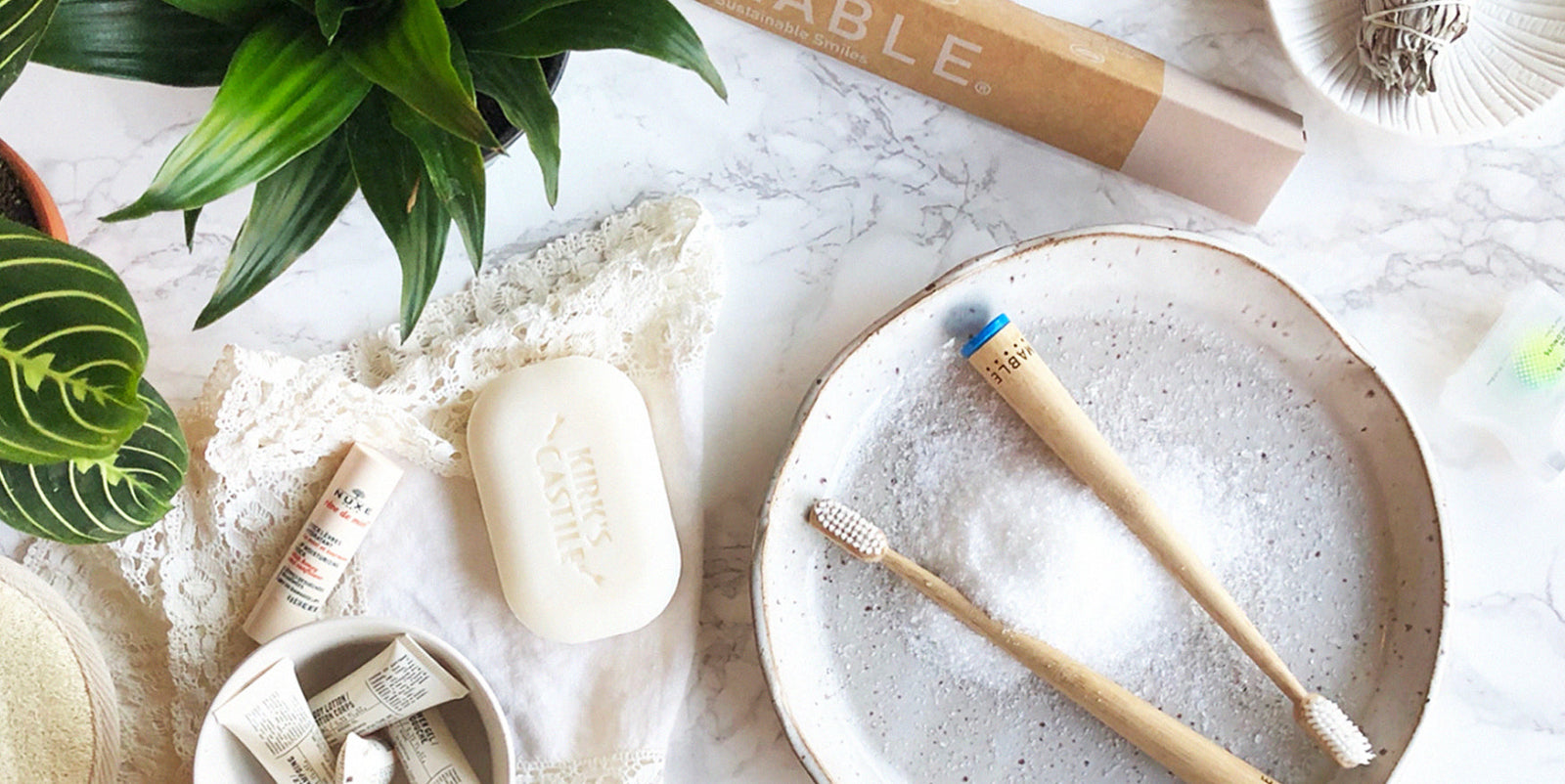 You know what we're excited about? The fact that the plastic-free movement is picking up so much momentum lately. As the world starts to take action, we're seeing more innovative products made of sustainable materials available on the market, and there's no shortage of options available in the bath and body category.
If you've already made the switch from plastic toothbrushes to a bamboo MABLE brush, then kudos to you! Here are a few other products to finish transforming your bathroom into the ultimate eco-friendly zone.
1. Bamboo Bath Linens
It's likely no surprise, but we love bamboo! Its fibers are naturally water-efficient and antimicrobial, meaning they can hold a lot of water without getting stinky—perfect for a bath towel, washcloth, or bathroom rug. The best part is, you don't have to sacrifice comfort for these perks; bamboo textiles are famously soft. Check out the experts' recommendations at Best Bamboo Guide.
2. Toothpaste Without Plastic Tubing
 
You've got your bamboo toothbrush in hand, so why not make the whole event plastic-free? You can learn how to make your own toothpaste to store in jars, or check out a few brands that use sustainable packaging, including powders and chewable tablets in addition to traditional pastes.

3. Exfoliating Soap Bag

Skip the cheap plastic-fiber "loofah" and opt instead for a natural soap bag. This one is made from sisal, and it's perfect for adding some exfoliating power to a bar of natural soap. Bonus perk: you won't have to worry about trying to stick together soap bar fragments anymore!

4. Biodegradable Toilet Paper
If the name of
this company
doesn't make you smile, then we're not sure what will. But cheeky names aside, their operation is worth your attention. On top of creating eco-friendly dye- and ink-free toilet paper, tissues, and paper towels, they also donate 50% of their profits to charity.
5. Shampoo Bars
  
When was the last time you re-used a shampoo bottle for something? If the answer is "never," then you're looking at yet another single-use plastic that deserves replacement. Shampoo bars are the perfect solution—they work just like a bar of soap, eliminating the need for a container altogether. Mind Body Green has an excellent break-down of some of the best ones out there. You can also find conditioner bars and even lotion bars that work the same way. And while you're at it, if you're a bodywash user, consider switching back to good ol' fashioned natural bar soap and eliminate another plastic bottle from your shower.

6. Safety or Straight Razors
Sometimes there's nothing like going old school to make the best eco-friendly shifts in your routines. The return of the safety or straight razor is one of the more trendy decisions of late that also gets a green stamp of approval, as it eliminates plastic waste from disposable razors. Learn more at My Gene Food's incredibly comprehensive article on all things green shaving supplies.

7. Plastic-free Deodorant
Another bathroom staple where the plastic-free choices are becoming nearly endless. In addition to sustainable ingredients for the deodorant itself, it can be purchased in a variety of recyclable or reusable containers, like cardboard, glass, aluminum, and even cork. A Hippie in a Van has put together this great resource of both DIY recipes and top-notch sellers of plastic-free armpit love.
Being eco-friendly is about much more than eliminating plastics or other high-impact materials. If full bathroom renovation projects are a possibility for you, check out these great tips from Inhabitat on sustainable building materials and energy- and water-efficient fixtures.
So, what's the next object you'll swap with an eco-friendly alternative in your bathroom?
Sources:
Image Sources: